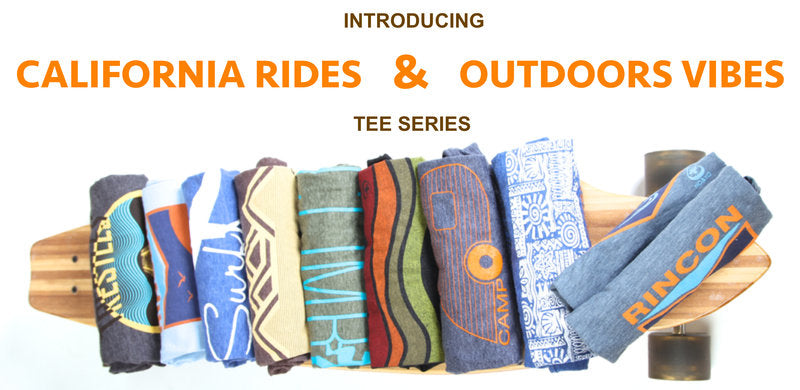 While designing in a clothing company that focuses on t-shirt designs, your creativity has endless possibilities. There are always more design ideas than actual printed tees even though you always think that you will print them all – someday. Well, this year
NO&YO 
came up with something that couldn't just wait for "someday." We learnt that in the clothing industry you just can't wait. If you have a great idea, you need to implement it asap. We decided to launch two sets of t-shirt series. They both complement our brand philosophy and they both will be growing with us. And you, as our fan, can see the ins and outs of the process.
The first series is called
"California Rides Series."
The three designs are all about the surf spots in California where you can get a great surf ride. Starting with only three spots was crazy difficult – how do you chose from so many? But we did it and here they are:
Trestles, San O' and Rincon
. The surroundings, terrain and shape of the waves that make up these surf sports made it possible for us to draw out the design in such way that it would be recognizable.
The designs were inspired by the vintage badges used for National Parks in the 60's and 70's. We updated them and added tons of color, which we are becoming little famous for.
The second design series is really close to our hearts – it's all about the Outdoors, the most favorite pastime of ours, and so we call this series the
"Outdoor Vibes."
It fully represents all that we are about not only as a brand but also as individuals. We also started this series with three designs; they're simple but timeless. These are the activities that we enjoy and that make California well…CALIFORNIA. They are:
Surf, Climb and Camp
. All of the Outdoor Vibes tees have a single color design. We wanted the sport or activity to speak for itself, through the design, and without the element of multicolors. However the one color used, plays a huge part in the selection – not only the color of the design but also of the shirt. We made sure that the shirt color would complement the sport that it's representing so that the climbers, surfers or campers would want to wear them while enjoying their outdoor adventures.
We have several ideas for additional to the Outdoor Vibes and California Rides series – sailing, yoga and other favorite sports but we'd love to hear from you – what outdoor activity would you like us to add next? What are your favorite surf spots and why? Send us a pic! Don't forget to
sign up
for our email updates, get 15% off your first on-line purchase and be entered into monthly drawing of NO&YO gear!
Your Email Address Will Not Be Published. Required Fields Are Marked *