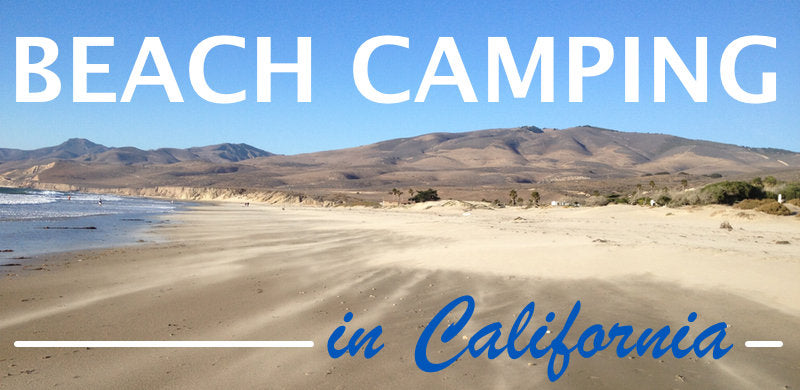 Top 5 beach campsites in California
If you're interested in camping, to take your camping experience further, in California you will start looking for camping close to the beach or in the best-case scenario – camping on an actual beach. Meaning, you want to be put to sleep by the sound of crashing waves of the ocean and be awaken by the seagull alarm clock. Many people will tell you that such thing is not possible or doesn't exist anymore in California but that will drive you even more to find it. Don't be fooled, such places do exist but of course most of them are off the beaten path.
Jalama Beach
  Our favorite beach on the Central Coast is little north of Santa Barbara. It's hidden 14 miles off Highway 1, and if Jalama Beach isn't your destination, you'd never know to make a turn on the semi-dirt road. It's a beach-front camping oasis, it's windy, it has waves to ride, awesome burgers at the only camp store around, which is also the only place on the beach to get any wi-fi or cell reception. The beach is about 4 miles long, with tide pools to be explored, dolphins to be seen dancing in the sea and endless sunsets to drink a glass of wine with. Pretty much a perfect spot to getaway from it all in one weekend.
Limekiln Campground
  This campground in Big Sur is easily overlooked as the entrance drops off Highway 1 sharply on the inland side of the highway. If you made it to a community of Lucia you went too far north. Half of the camp grounds lie under the beautiful and shade providing redwood trees and the second half spreads around Highway 1 on the cliffs overlooking a small hidden beach. The beach is protected from both sides, and is ideal for a perfect start to a day with a morning coffee or hanging out with a book in your hands or - really any time. Interestingly the Limekiln Creek and its cold water coming from the redwoods is directly entering the ocean on this beach. What's unique about this location, as its name suggests, are the lime kilns which are just a short hike away. The best campsites are the walk-in Ocean View campsites that are located on the cliffs. These campsite numbers are 1, 2, & 3, but you will need to get there early to get these campsites because reservations at Limekiln are not site-specific, and a campsite is assigned when you arrive. We were lucky enough to get site #3 on our last visit at Limekiln. You can read about that adventure
here
.
Tomales Bay
The best-hidden secret of camping on sand in Northern California is Tomales Bay beaches. Imagine camping on a beautiful beach in the Point Reyes National Seashore - one that can only be reached by water. Boat-in (boat or a kayak ride) low-impact camping in Tomales Bay should definitely be planned. There are only 20 backcountry permits given per day but the beaches and their detached camps along the west shore of Tomales Bay are definitely worth it . Just make sure that you build your tent above the tide line, since the boat-in camps are set on small sandy coves against the steep cliffs. At certain times of year, you can observe bio-luminescence in the waters of the bay where you can see flickers of light coming from the water, produced by dinoflagellates. These tiny creatures emit short flashes of light when disturbed, by your hand, paddle or kayak and become really bright. If you have the opportunity to see it, don't miss it!
San Onofre Bluffs
  Not as much off the beaten path, nonetheless San O' is a great choice for those who like to camp while staying in touch with the civilization. San Onofre Bluffs are located off the I-5 in the southern most tip of Orange County. Bluff campsites are overlooking the ocean and the sandy 3.5 miles beach below. There are 6 dirt access trails from the camp to the beach. They're all a little hike and some are steep but the beach makes up for the effort. The longer walk to the water is also what keeps the crowds out. San Onofre offers an opportunity to appreciate what Southern California's entire coastline may have looked like 100 years ago: barren, windswept bluffs, native vegetation and a tidal wetland.
Leo Carillo
Even though Leo Carillo is technically not a campsite right on the sand it's so close to the beach that we could include it on our list. Its proximate location to LA makes it a perfect getaway even just for one night, especially since it feels like you're so far away from the hustle of the city. In the summer this spot fills up quickly, so reservations are a must. The camp is located just off Hwy 1 and Mulholland Highway. To get to the beach from the campsite you walk under the bridge (highway 1) and the 3.1 miles of beach opens up in front of you. This beach has tide pools, coastal caves and reefs for exploring. And after the time spent at the beach, there are tons of backcountry hiking trails as well in the Santa Monica Mountains that provide for great ocean or mountain views.
So these are the Top 5 beach campsites in California - go ahead and try one of these spots or try them all  - either way it's impossible to have a bad time at the beach.
And if you liked what you read, don't forget to 
sign up
 for our email updates, get 15% off your first on-line purchase and be entered into monthly drawing of NO&YO gear!
Your Email Address Will Not Be Published. Required Fields Are Marked *