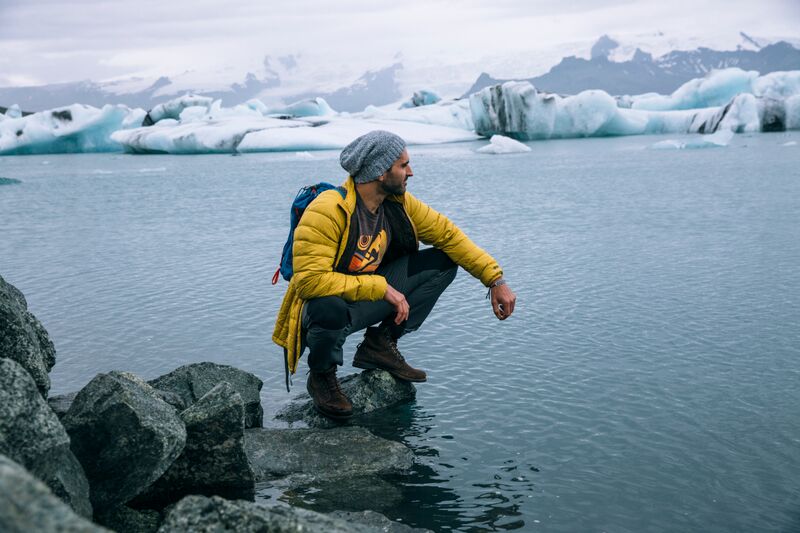 Trip to Iceland seems to be on many people's Bucket Lists these days. And no wonder; for a nature lover it's a country of such unbelievable beauty that one can't see anywhere else.
NO&YO
ambassador Sammy crossed his Iceland Bucket List this year and he shares his encounters in Iceland with us below.
By Sammy Siljkovic
A trip to Iceland had long been on my list of places I just needed to visit. I had a two week window in early September to make the trip finally happen and started my planning by first ordering a map and guide book. I had originally wanted to go solo but I was open to one of any of my adventurous friends to join for either part of or all of the trip. My friend Rick was in. My plan was to knock out the best of what Iceland had to offer then just wing the rest of the trip, basically letting the universe take over at some point. My main interest was completing the Laugavegurinn hike, a trail in southwest Iceland that starts in Landmannalauger and ends in Thorsmork (Pórsmörk) and is considered thee premier hike in Iceland. It's a 55 km hike with huts carefully positioned along the route. Rick had his heart set on visiting the Westfjords, which is the most upper west area of Iceland and is the least visited by tourist. So a loose plan was set; The Westfjords and the Laugavegurinn hike... and wing the rest.
After landing in Iceland and making our way to Kex hostel (quite possibly the best hostel on the planet, in my opinion) in Reykjavik, we made our way to a local outfitter for some answers to questions we had regarding the Laugavegurinn hike. What we learned was basically the weather was shit because of a storm that was coming through from the southeast and working its way west. The real kicker was the high winds and so Rick and I decided to just get going, chase the good weather, do something somewhere, who cares. Rick returned from a car rental with a VW Golf and we made our way north and then west from Reykjavik toward the Snaefellsnes Peninsula, there we stopped in for a short hike from Arnarstapi to Hellnar (approx. 40 mins) along the southern coast of the peninsula enjoying spectacular views of the rocky coastline. From there, we spent our evening in the town made famous by the Ben Stiller "Walter Mitty" film, Stykkishólmur. We stayed at another very nice hostel, The Harbour Hostel and there we met Juan and Mara, a couple from Granada, Spain who had completed the Laugavegurinn hike about a week earlier and fed us info on different places around the country, pointing them out on our map that was laid out on the kitchen table. While at the Hostel we also learned that the way into the Westfjords was also a tough one, with roads that were meant only for 4X4's and that heading to the Westfjords would be a real commitment which would eat a lot of time. We decided to keep moving and started heading east the next morning heading out on route 1 toward Akureyri, Iceland's "second city" with a population of about 18,000. Rick and I checked in at another hostel, Akureyri Backpackers. Not much to say about our short stay here, we took in the city with a stroll, had a great dinner at Hamborgarafabrikkan (I had the ridiculously good Lamb and Beef burger) and stopped in at the visitors center for some info on a nearby National Park then capped off our evening with some Icelandic beer back at the Hostel. Note that Rick is a beer connoisseur and can identify what type of beer your having if he were blind folded and seated across the room, just the sound of the beer being poured into a glass would suffice, me, I'm not really a beer drinker but if your in Iceland and with a friend who possesses such a skill, of course I'm going to enjoy a beer.
So after three days and still no real hiking done, we set out early toward Jökulsargljúfur (Vatnajökull National Park North). We were told at the visitors center in Akureyri that the hike high up along the cliffs over looking the canyon in Jökulsargljúfur was incredible and the weather forecast called for clear to partly cloudy skies for the next two days. The hike begins at Ásbyrgi which is the north end of the trail and ends at Dettifoss, a 44m high, 100m wide waterfall that drops 193 cu meters of water over its edge every second, the greatest volume of any waterfall in Europe. We pulled into the parking lot of the visitors center at the northern end (Ásbyrgi) of the trail early in the morning. The visitors center wasn't open yet but we figured we could just get started, after readying our packs and finally starting our first hike me and Rick couldn't contain our excitement of finally getting things rolling on a trail but that excitement lasted approximately 75 minutes when we realized we had started on the wrong trail. Fast forward 75 minutes and I was back at the visitors center which was now open and with the help of a map and park ranger, it was made clear exactly where we needed to start and where we would be spending the night, Vesturdalur - the campsite which is about the midway point between Ásbyrgi and Dettifoss, we were finally on our way and boy this place would not disappoint.
The trail starts to the left (after exiting the ranger station and walk down some steps) making our way through a field of low cut grass and toward the corner where we passed through a small fence, a marker set us on the correct path of the hike which starts upward and along a cliff looking down to the right over looking Ásbyrgi canyon. After making our way through some trees the trail opens up to a spectacular view of Jökulsá á Fjöllum (Iceland's second longest river). Hiking southward toward Vesturdalur the trail takes you to some epic views high above the canyon looking down on the river, we chose to have lunch at one such place just taking in the view. The terrain changes from lush multi colored moss to rocky baron moon like vistas. The hike from Ásbyrgi to Vesturdalur is 12 km long (around 3 to 4 hrs hike). We reached a portion of the trail where you hike on gray fine dirt for about 15 minutes before reaching the red hills (The Raudhólar), we were now in Vesturdalur. We made our way up a hill overlooking the Echo Rocks (Hljódaklettar) and stopped for a water break and photos. Across the river from Echo Rocks sit the two rock pillars "Karl og Kerling" ('old man' & 'old woman'). Vesturdalur would be our first site setting up camp on this trip, with streams nearby and a two private toilet, two sink set up, we were set. The weather was nice and the sound of the stream made for a comfortable night of sleep.
Day 2 started with some light rain and as we continued along the trail making our way through some more birch forest we came across two French men who advised us we'd be coming up on a river crossing (a small river that branches off of Jökulsá ) and plenty of beautiful waterfalls, they failed to tells us about the insanely annoying flying insects we'd encounter near the river, that's a story in itself. After getting our feet wet in the icy crystal clear water we made our way past numerous waterfalls cascading down on our right. This area is named Hólmatungur and is a part of the park that makes you feel at peace due to all the lush vegetation and cascading waterfalls of course. Hiking up the right side of a waterfall the trail lead us over a couple short wooden bridges over streams and you guessed it, more waterfalls. The trail continued on with more insane views of the Jökulsá river and then made its way right and around a dry canyon, we were close to Dettifoss according to the two female German hikers we met on the trail. Minutes later we could see the mist from a distance and as the trail came to an end it lead us into a parking lot. A short walk through the lot and onto a path toward the falls along with tourists fresh out of their cars and there it was, the powerful mighty waterfall named Dettifoss. Our first hike was complete, taking in the spectacle via sight, sound and feel of the mist in the air, we now had to get back to where we started, Ásbyrgi, where the VW Golf rental was waiting. It was late in the day and no one in the lot would give us a lift back to the north end of the trail also no buses were running this time of year. We sat at a picnic table in the lot going over our options, deciding to head back to Vesturdalur and set up camp but it was getting late and we would definitely be in the dark at some point on our return hike.
Find out what happens next in part II of my Iceland trip here on the
NO&YO blog
...   All photos curtesy of Sammy and
Rick Shepardson
. Follow more of his adventures on his IG
@sammyadventure
Your Email Address Will Not Be Published. Required Fields Are Marked *