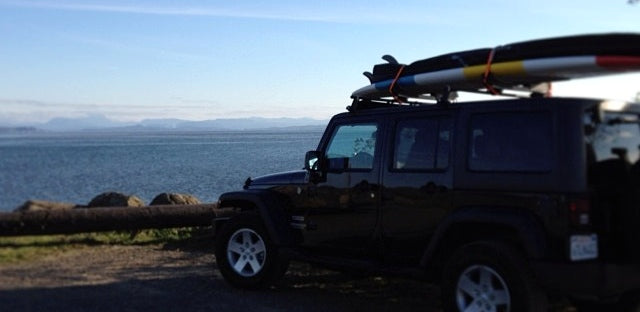 Are you up to last minute camping trips? Are you always short on time and forget the essential stuff? Well if you're a spur of a moment gal or guy, there is one thing that will make your car camping experience really easy and without much planning. Let
NO&YO
introduce you to the Camping Box.
So what is a Camping Box you ask? Well it's a box where you keep all of the car camping essentials until your next trip. You replenish it as soon as you get back with anything that you used up but most of the things in the box stay inside until the next trip. This way the only thing you need to do when the last minute call from your friends come, is to buy some food and you're ready to camp, enjoy the outdoors and friends' company. Using a plastic bin as a camping box is recommended, since it lasts longer, it's waterproof and sometimes even animal proof (depending on what animal you're trying to fool). They're also easy to tie on the car's roof rack if there isn't enough space in the car with all your friends heading out.
So what's inside the Camping box? Well that depends on you but let's give you few ideas. • For great mornings in the wilderness you of course have to have a percolator to make the best coffee around. Even Walmart sells enameled coffee pots. And don't forget the enameled coffee cups to go with it as well. • Wet wipes, hand sanitizer and a roll of toilet paper. If there are no bathrooms and/or no running water, these essentials are a must! Get the baby wipes for under $2 rather than the hand wipes for close to $5- they do the same job. Nature will also appreciate biodegradable toilet paper. • Fork, knife, and a spoon. You can also get an "all in one" tool that is handy for those who just can't manage keep track of several utensils. • Mexican blanket. It works around the fire to keep you warm. It works in the tent to fold under your head or spread under your sleeping bag or keep you warm. It works for picnics and anything else you can imagine. • Dryer lint and lighter. Lint is a great fire starter. Anything that helps you with starting a fire once you get to your camp, since that usually happens on Friday night, is a plus. • Flashlight and solar sticks. Solar sticks are inexpensive (think garden section in Home Depot or Walmart); they charge during the day when you're having fun and at night you can stick them next to your tent entrance or anything that you want to be able to find in the middle of the night. • Emergency granola bars. Granola bars last a long time and so they are the perfect emergency food to keep with you. It's perfect for the unexpected spur of a moment hikes or trips and if you carry enough for your friends, you'll save the day! These are few examples of what is in our Camping box. It's always being revised, mostly to add items or to update broken things but it has proven itself to be a great asset and well worthy of the limited space in the car when going away on a planned trip or a spur of a moment weekend getaway. What are you packing in your Camping box?
If you liked what you read, don't forget to sign up for our email updates, get 15% off your first on-line purchase and be entered into monthly drawing of
NO&YO
gear! Get social with us on
Instagram
or
Facebook
!
Your Email Address Will Not Be Published. Required Fields Are Marked *