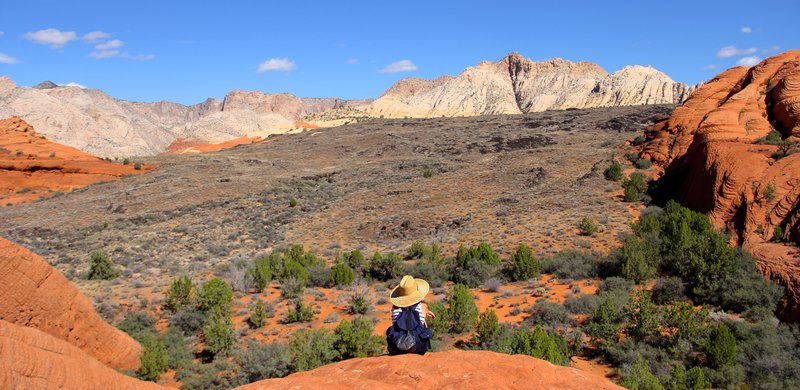 About an hour before you reach Zion National Park in Utah, there is a small scenic park called
Snow Canyon
. With its 7400 acres it's a great sampler of what Utah has to offer; it includes lava tubes and lava flows, Navajo sandstone from burnt orange to creamy white in color, sand dunes and canyons. It's definitely less touristy than Zion or Bryce Canyon and it provides for great beginner's rock climbing, hiking, camping and biking. At the off-season, the quietness of the surroundings is unreal and soothing.
Snow Canyon has several trails, around 15-20 to be exact. They're mostly shorter and easier trails but the heat and elevation may make them little more challenging. There are two trails that are closed at certain months: Jenny's Canyon and Johnson Canyon. Johnson Canyon is only open from October to March to protect the only surface flowing water in the park for the animals and it also has the only arch of the park nestled in the red rock and spanning 200 feet; so if the trail is open, you have to take it!
Snow Canyon is open all year round and also has camping - 35 campsites for tents and RVs below 35 feet. Each RV spot has a covered picnic table area attached right next to each spot. Snow Canyon is a hidden secret of Southwest Utah! If Zion wouldn't be so close, it may have even been a National Park☺ This place is magical as the sun hits the Navajo sandstone at sunset. Being Zion's little sister, Snow Canyon has the diversity that Zion's red rocks don't have- the panoramic views, lava and sand dunes. In a nutshell, Snow Canyon is for those who enjoy fewer tourists, hiking, climbing and are OK to slow things down a bit - for few days anyways.
And if you liked what you read, don't forget to sign up for our email updates, get 15% off your first on-line purchase and be entered into monthly drawing of
NO&YO
gear! Get social with us on
Instagram
or
Facebook
!
Your Email Address Will Not Be Published. Required Fields Are Marked *