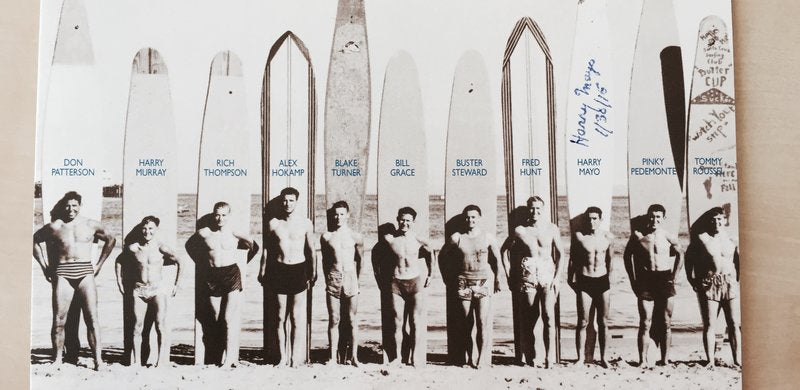 Many people would agree with us that traveling is great but it is especially awesome when you get to meet a Santa Cruz Legend on a whim.
Every chance we have to drive south along the coast of California, we take it. We were driving from Lake Tahoe via San Francisco back to Orange County and had to make our usual stop in Santa Cruz. We had some visitors with us from Europe and so we stopped by the Santa Cruz Surf Museum in the lighthouse at Steamer Lane. We've been there several times before but this time we were the only ones in the museum. January is usually an off-season for tourists here and the unusual weekend of 80-degree weather was just a bonus point for us on the road.
Mary who worked in the museum asked us a few questions and then based on her sound decision that we are surfers, she let us know that in half an hour the only remaining living member of the original Santa Cruz Surf Club is going to be over signing whatever we would want as well as chatting away with few of his friends. Something of a weekly tradition, we learnt. Of course we waited. And got ready some of our famous buttery soft tees that we carry with us everywhere exactly for this occasion. How often can you give a legend something unexpected?
Harry Mayo showed up on time with two of his friends, ready to meet us and chat for days. At his 92 years young he was full of energy and enthusiasm to talk about the olden days of surf. Those days when there were no surfers in Santa Cruz and he became one of the first ones when he was about 13 years old. Those days when they made their first surfboards at the wood shop class of their High School. They cost them about $13 to make. [caption id="attachment_9388" align="aligncenter" width="390"]
Photo curtesy of Harry Mayo[/caption] Harry said that they were really heavy and a PITA to get into the water and from the water so that explains why all of the members on the pictures seem to have six packs. Just carrying those boards was a workout in itself! There were no wetsuits and so some of the guys would buy cheap wool sweaters at the Salvation Army for a $1 and cut their sleeves off and surf in those. As Harry said he didn't like those sweaters so he just tried to not get wet and stay on top of the board as much as possible. It was 1936 he was one of the original members of the Santa Cruz Surf Club and he is a member still. We felt incredibly lucky that we were able to talk to someone who could shed some light into how things worked many decades ago and inspired us to make sure that some of that is preserved for future generations.
So next time you're in Santa Cruz, make sure it's Friday and go talk to Harry, the Santa Cruz Legend! PS: Also Harry gave us some insider tips on the water conditions, the intensity of the waves, temperature and so on. So, you as our NO&YO fan will get this information simply for being our fan. Here it goes, per Harry, nothing has changed. So what are you waiting go and surf before something actually changes. BECOME PART OF THE
NO&YO
TRIBE:
Your Email Address Will Not Be Published. Required Fields Are Marked *