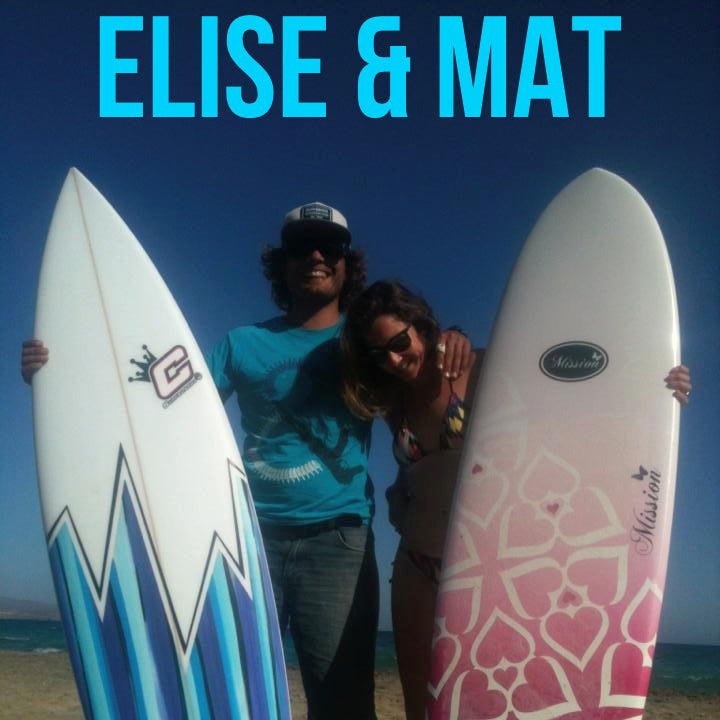 NO&YO Ambassadors Elise and Mat
Elise and Mat are the first couple to become NO&YO Ambassadors. NO&YO Ambassadors Elise and Mat are coming to you all the way from Tahiti. Finding amazing people around the world that share the NO&YO dream and philosophy is mind-blowing but also validates that people, no matter where in the world they live, connect through love of the outdoors and respect for nature. NO&YO is proud to be the connecting link and being able to spread the good vibes through its brand.
Get to know Elise and Mat from our first interview.
In few sentences – who is Elise and Mat?
M: I am a child of the Ocean. I come from a small typical village of the south of France. I learnt sailing very young and then windsurfing. Windsurfing was my first love, and after some years of competitions, when I was 15 years old, I started to travel around the world, chasing the perfect wave riding spots and taking photos and making videos. I also learnt how to surf, Kite board and SUP. Now what I love the most is surfing waves in all the ways I can.
I also work a little:) I'm a Kiteboarding and Windsurfing Instructor and I am really thankful to share my passion with others.
E: I'm a mountain girl. I was born and raised in the French Alps. I learnt skiing very young and then hiking, snowboarding and climbing. Some years ago I was a fashion designer in France and at the same time I fell in love with Mat and with the Ocean :) I decided to follow him around the world in his crazy adventures and I learnt how to surf. Our surf trip in Indonesia was the revelation and I caught the Surf Virus:) Now I can't imagine life without surfing and ocean.
I work with Mat and I'm grateful for that, we manage a SUP, Kite and Windsurf school in Moorea, Tahiti.
What "adventure" means to you?
M: Chasing surf spots, find virgin waves, sharing life with local people - this is Adventure to me.
E: Discovering new places, finding nice surf spots, driving on uncrowded and wild roads, with no idea of where you will finally stop. Anything can happen - that's what I call Adventure.
What's your favorite adventure to-date?
M+E: Definitively Indonesia. With a special appreciation to our Motor bike/Surf Trip, from Bali, crossing all Lombok to Sumbawa, exploring the west coast to find and surf the Mythic "Super Suck".
What's your largest accomplishment (by your standards) in adventure/exploration?
M+E: After our Indo trip, we spent 2 months in France and we took the most important decision of our life. We spent our last euros to buy a one-way ticket to Tahiti. We were hoping a new start in Paradise. Today, 2 years we live here and we are satisfied. We work together for a great school and we live the life we love, close to the nature and Ocean.
What do you want to explore/pursue/try in the future? Any plans?
M+E: Continue to explore the South Pacific; like Tuamotus Islands, Marquisa Islands and Fiji. For the end of the year (hopefully), we're planning a Surf Trip to New Zealand, exploring the country in a Camper Van and enjoying all the surf spots of the island, or at least most of them:)
How do you like to explore? What's your adventure style?
M+E: Backpacks, surfboards, motorbike or camper van. Staying in small homestays, camping, and sharing a maximum with the locals, and enjoying local food and traditions.
Why did you want to become NO&YO ambassador?
M+E: We wanted to become ambassadors for NO&YO as a couple of adventurers, wanderers. We totally agree with the brand values and concept and we want to share our passion of travelling and exploring trough the brand. By representing NO&YO in our lifestyle and in our trips we'd like spread the NO&YO spirit around us, and make discovering this brand to people like us, nature lovers, travellers, dreamers.
What was the last road less traveled you took?
M+E: The last road less traveled we took was on water:) In April 2015, we sailed a 47-foot catamaran from Raiatea, around Taha'a and Bora Bora. We went on this trip with two friends, sailing in the most beautiful places of the world, searching for perfect surf spots and kiting the amazing sand bar of Bora. Most of the time we were alone, at perfect moorings or anchorages and uncrowded places.
What's the most important "freedom" to you? What makes you free?
M+E: It's doing what you love everyday. Surfing means freedom for us.
For Mat: it's when I get barreled. It's inside the belly of the wave, when I feel free.
For Elise: When you catch a good wave, the sensation when you feel the power of the Ocean and you dance with the wave; this is freedom.
Follow Elise on IG
@babeinthewaves
and Mat @
mat.le.bled
. BECOME PART OF THE
NO&YO
TRIBE:
Your Email Address Will Not Be Published. Required Fields Are Marked *