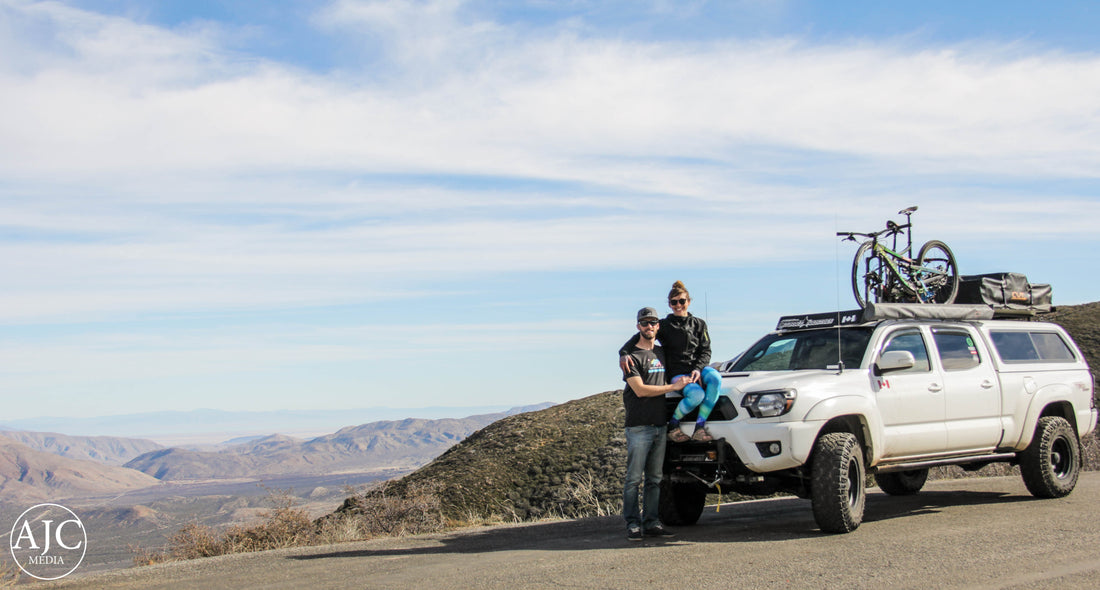 NO&YO Ambassadors Alison and Alex
We met NO&YO Ambassadors Alison and Alex in Palm Springs. They told us about their lifestyle, traveling in their car, chasing dreams and we immediately connected. A week later we invited them to the NO&YO headquarters and spend few hours talking about the mission of NO&YO, how we started and what the future plans for NO&YO are. At the end of the evening we knew  that we would be collaborating with these amazing two people. Get to know them too:
Who is Alison & Alex?
We are two Canadian farmers who love the thrill of adventure, discovering new places and riding our bikes.  When we're not traveling, we're dreaming of the places we can be and things would could be doing.  Alison is a pro-cyclist who rides with an all women's Olympic development team based out of the US.  Alison saw a quick rise in the rankings in her first year as a pro-cyclist and looks forward to another highly successful season with hopes of attending the 2016 Olympics in Rio.  Alex is a up and coming photographer and videographer who prefers his time spent in the outdoors more than anywhere else, he's even happier still if that time is spent with wheels in the dirt.  If it's not a mountain bike on the trails it's in his Toyota tacoma exploring the back roads.
What adventure means to you?
As cliche as it may sound, adventure is freedom.  When we're on the road traveling to a new place, all we need to think about is the next cool place we have ahead of us, we don't need to worry about what we left behind.  Having said that, adventure for us doesn't have to be a big trip or a grand journey, we like to micro-adventure, which means simply stepping out the door and getting away from the 'every-day' for a short amount of time.  Adventure in all shapes and sizes restores us and enables us to continue on with the necessary tasks that facilitate further adventure.
What's your favorite adventure to date?
That's a tough question, we've done some pretty cool stuff.  For me (Alex) it would be between our trip to Alaska and our trip to Newfoundland.  Alaska, we drove in our old truck over 10,000km in 2.5 weeks going as far as Deadhorse, Alaska and in Newfoundland we flew out, rented a van and slept in the back of the van on a wal-mart air mattress for 10 days while driving around the East coast of the island.  For When asked, Alison said something very philosophical, she said, "today, everyday is an adventure," this is why I fell in love with her.
Whats your largest accomplishment in adventure/ exploration?
I think it would likely be the adventure we're currently on.  Alison and I have been living out of our truck for the past three months.  We left our farm in Alberta on December 1st and began our journey south to California in search of sun and warmth.  Prior to our departure before we started our heavy work season through the summer we had an accident and wrote off our old 1996 Toyota Tacoma adventuremobile which meant we needed something new before we left.  So we purchased our current 2013 Tacoma and rebuilt it for adventure in addition to making enough money to pay off the whole truck.  It was a scramble and really hard at times to just keep our heads down while we prepared and worked.  To date this has been our longest journey and fairly successful to boot!
What are your future plans?
Our goal is to live on the road full time with only short trips back to the farm in peak seasons.  We're in search of a sustainable way to make a living while traveling around North America for now.  At some point we'll extend our travel to Europe and maybe South America.  In terms of a home to live from on the road our plans are to purchase and refurbish a 1970's Trillium fiberglass trailer so that we can have a dry place to live out of at all times.  This trailer will have to be capable of going anywhere the truck can so we can go get lost in the woods whenever the need arises.  My (Alex) hopes are that I'll be able to travel around and live in the trailer for at least a year before we add on any new continents.  At some point Alison will need to become apart of the European circuit which will inevitably force us to do some serious time across the pond.
How do you like to explore?
Wheels.  We can appreciate a good hike or walk and don't REALLY care for flight, but wheels are where it's at.  As I've said before, our Toyota Tacoma gets around to a lot of places and then from there we head out on either dirt or road on our bikes.  Traveling with wheels helps to not skip over those massive tracts of land too fast and allows us to take in our surroundings a little slower.
Why did you become a NO&YO ambassador?
In short, we instantly fell in love with the brand, we loved the designs and quality of the products; however, when we met Isabella and Yanni in a meeting we knew we had found the right people to partner with.  Their WHY for the business resonated with every part of our beings.  As we learned more about the program our minds began to explode with the exciting possibilities that partnership provided.  It was impossible to say turn down such a fantastic opportunity to collaborate!
What was the last road less traveled you took?
If by road you mean experience, we could sum that up by saying that there's a pretty small demographic that 'chooses' to live out of a vehicle for any extended amount of time.  If we're talking literal road, there was a time during our drive down to South that I had found a road on Google Earth that looked like it may have a camping spot at the end of it.  We arrived at the trailhead in the dark and began to drive up it, quickly realizing that the road was in pretty rough condition and that we probably shouldn't have been there, so naturally I decided to continue.  We ended up finding camp in the dark, but when we woke up we found ourselves in a sheltered alcove next to the Pacific with the waves crashing against the cliffs below us.  A road less traveled, but definitely worth it.
Most important freedom?
Alison and I are very blessed to have employment on a farm where we can work the peak times then disappear in the low times. The farm provides us that very important and vital freedom to our lifestyle choices which we're continually thankful for.  Perhaps that doesn't answer the question correctly, but it is a 'freedom' that is vital to us, it's the freedom to just go.
What is your passion of the moment?
I think it is now and always will be a passion for us to see and experience incredible places together.
Your Email Address Will Not Be Published. Required Fields Are Marked *